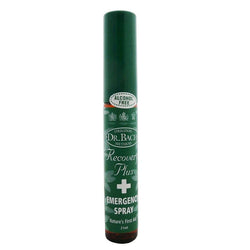 Ainsworths Emergency Spray 21ml
Ainsworths Emergency Spray 21ml.
Dr. Bach anti-stress combination + Dr. Bach original rescue formula
Relax with Emergency Spray. 

Specially formulated with Bach flower remedies, traditionally used for their calming, soothing and strengthening qualities. 

The water base speeds the effect of the essences and makes Emergency Spray completely safe for frequent use and all ages.

Emergency Spray is uniquely alcohol-free, with a gentle no-taste formula, and can be used with babies, children and animals.

For maximum benefit we recommend you use Emergency Spray:

On waking and before going to sleep
Before and in any stressful situation, e.g. and interview, important meeting, test or medical appointment
For shock, bereavement and separation
To enhance any relaxation treatment or meditation
Any time you feel nervous, out of balance or emotionally pressured
With anxious babies, children or animals
Directions: Spray directly onto the tongue, as required. Safe for all ages.
Suitable for vegans. No artificial additives.
Ingredients: Aqua, glycerol, grapefruit seed extract, organic flower essences of Aspen, Cherry Plum, Clematis, Impatiens, Mimulus, Rock Rose, Star of Bethlehem and White Chestnut.
Delivery is FREE in the UK for all orders over £30. Otherwise, delivery is £2.95. 
EUROPE delivery charge from €17.90.
AMERICAS & REST OF THE WORLD delivery charge from $19.90. 
Once your product has shipped, it usually takes 2 to 3 business days in the UK, 5 to 10 in Europe, 7 to 20 for the rest of the world. 
You can return your product up to 30 days after receiving your order or Learn more...
Smiles
Guaranteed
We promise you will love it.
If you don't,
We will refund it.
We want you to be happy with your purchase. In the unlikely event you would not be satisfied by our products, just return the product to us and we will refund it.
No questions asked.