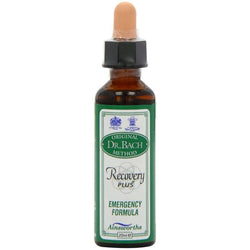 Ainsworths Recovery Remedy Plus 20ml
Ainsworths Recovery Remedy Plus 20ml.
Dr Bach Anti-Stress Combination. 
Dr Bach Original Rescue Formula. 
This combination comprises Bach Flower essences specifically chosen to deal with fears and anxieties, targeting the resultant repetitive and negative thought patterns.
Contains a combination of: 
240 parts Brandy to one part flower essences: Cherry Plum, Clematis, Impatiens, Rock Rose and Star of Bethlehem. 
Made to Dr Bach's Original Method. 40% Alcohol by volume. 
Directions:
Place 4 drops in a glass of water, if used singly, or for a combination remedy use 2 drops each. Sip occasionally throughout the day as required.
Delivery is FREE in the UK for all orders over £30. Otherwise, delivery is £2.95. 
EUROPE delivery charge from €17.90.
AMERICAS & REST OF THE WORLD delivery charge from $19.90. 
Once your product has shipped, it usually takes 2 to 3 business days in the UK, 5 to 10 in Europe, 7 to 20 for the rest of the world. 
You can return your product up to 30 days after receiving your order or Learn more...
Smiles
Guaranteed
We promise you will love it.
If you don't,
We will refund it.
We want you to be happy with your purchase. In the unlikely event you would not be satisfied by our products, just return the product to us and we will refund it.
No questions asked.