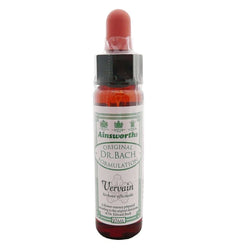 Ainsworths Vervain Bach Flower Remedy 10ml
Ainsworths Vervain Bach Flower Remedy 10ml.

Symptom:
Willful / Fanatical / Stressed.

Flower Essence:
Quiet, Tranquil and Open.

The Vervain person has fixed principles and ideas that cannot be changed, because they are confident they are correct, never considering an alternative. They feel compelled to convert people to their way of thinking and, consequently, overwork themselves to the point of exhaustion. This remedy helps them to wind down, to rest and relax in order to accept new ideas and viewpoints. 

Original Bach Flower Remedies based on the 1:240 formula
Help to manage life's ups and downs
Suitable for all the family
Ingredients:
Vervain
Flower Essence, Brandy, Alcohol 40% vol
How to Use:
Place 2 drops in a glass of water, sip occasionally or selecting 2 or 3 essences place 2 drops of each into a 30 ml bottle of water taking 4 drops 4 times daily.
Delivery is FREE in the UK for all orders over £30. Otherwise, delivery is £2.95. 
EUROPE delivery charge from €17.90.
AMERICAS & REST OF THE WORLD delivery charge from $19.90. 
Once your product has shipped, it usually takes 2 to 3 business days in the UK, 5 to 10 in Europe, 7 to 20 for the rest of the world. 
You can return your product up to 30 days after receiving your order or Learn more...
Smiles
Guaranteed
We promise you will love it.
If you don't,
We will refund it.
We want you to be happy with your purchase. In the unlikely event you would not be satisfied by our products, just return the product to us and we will refund it.
No questions asked.