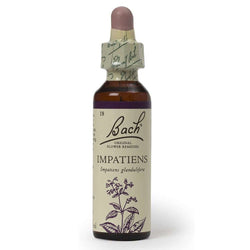 Bach Original Flower Remedies Impatiens 20ml
Bach Original Flower Remedies Impatiens 20ml.

Bach Original Flower Remedies Impatiens is a natural flower remedy designed for those who feel that they haven't any sufficient strength, mentally or physically to deal with the affairs of everyday seem too much for them to accomplish, though they generally succeed in fulfilling their task. For those who believe that some part, of mind or body, needs to be strengthened. 

Bach Original Flower Remedy Impatiens is made from a 5x(1:240) dilution of Impatiens glandulifera - Impatiens in a grape alcohol solution.

Feeling: You feel impatient with the slow pace of people or things. The positive potential of Impatiens is patience, to think and act less hastily.

Bach Original Flower Remedies are gentle, easy to use, and contains natural ingredients. They come in a handy, portable dropper bottle.

How to use:
Take an individual essence based on your needs, or create a combination of up to seven essences.

Place 2 drops in water and sip at intervals. For combination use, add 2 drops of each essence (max 7 essences) into a mixing bottle containing still spring water, and take 4 drops 4 times a day.

Ingredients:
Grape alcohol (approx. 27% v/v), flower extract of Impatiens.
Delivery is FREE in the UK for all orders over £30. Otherwise, delivery is £2.95. 
EUROPE delivery charge from €17.90.
AMERICAS & REST OF THE WORLD delivery charge from $19.90. 
Once your product has shipped, it usually takes 2 to 3 business days in the UK, 5 to 10 in Europe, 7 to 20 for the rest of the world. 
You can return your product up to 30 days after receiving your order or Learn more...
Smiles
Guaranteed
We promise you will love it.
If you don't,
We will refund it.
We want you to be happy with your purchase. In the unlikely event you would not be satisfied by our products, just return the product to us and we will refund it.
No questions asked.