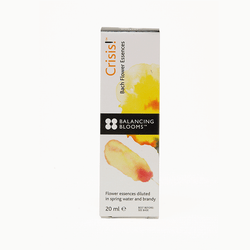 Balancing Blooms Crisis Bach Flower Essences 20ml
Balancing Blooms Crisis Bach Flower Essences 20ml. 
The world famous five flowers recipe, developed by Edward Bach himself, to help you to improve your disposition, no matter what emotional crisis you are facing - from going to the dentist to performing on stage. 
Bach perceived the moods of the flower in Crisis! as:
Star of Bethlehem – Comfortable mood;
Cherry Plum – strong and confident mood;
Rock Rose – fearless mood;
Impatiens – gentle and forgiving mood;
Clematis – engaged mood.

The flower essences in this product are at ready to use concentrations prepared in accordance with the original written instruction of Edward Bach in the 1930s and his colleagues Weeks and Bullen in 1964. Wild flowers are handpicked in the English and Welsh countryside.

Directions: 4 drops directly on the tongue or into a glass of water, depending on personal taste. Repeat as often as desired.

For over 18s only. Keep out of reach of children. Pregnant or breast-feeding women should consult their doctor before taking this product.
Delivery is FREE in the UK for all orders over £30. Otherwise, delivery is £2.95. 
EUROPE delivery charge from €17.90.
AMERICAS & REST OF THE WORLD delivery charge from $19.90. 
Once your product has shipped, it usually takes 2 to 3 business days in the UK, 5 to 10 in Europe, 7 to 20 for the rest of the world. 
You can return your product up to 30 days after receiving your order or Learn more...
Smiles
Guaranteed
We promise you will love it.
If you don't,
We will refund it.
We want you to be happy with your purchase. In the unlikely event you would not be satisfied by our products, just return the product to us and we will refund it.
No questions asked.