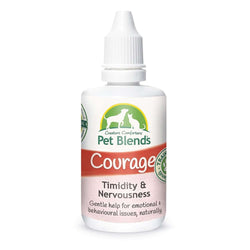 Creature Comforters
Creature Comforters Courage Pet Blends 50ml
Creature Comforters Courage Pet Blends 50ml

Timidity and Nervousness

Gentle help for emotional and behavioural issues, naturally

Creature Comforters Courage Pet Blends can be used for animals who are timid, nervous, submissive, spooked, clingy, over sensitive or insecure, generally as part of their temperament or character.

Blended to help gently aid natural confidence.
• CONFIDENCE
• NERVOUSNESS / ANXIOUS
• SHOW NERVES / RING SHY
• TIMIDITY / SHYNESS
• INSECURE
• SUBMISSIVE
• TRAINING
• SOCIALISATION

Instructions for use:
Add drops to treats and offer to your pet.

• Medium sized (dogs, cats etc.) Give 5-7 drops
• Large (horses, goats etc.) Give 10-12 drops
• Small (hamsters, birds etc.) Give 3-4 drops in water

You can also add a few drops to their drinking water.

No artificial colours, flavours or preservatives. Simply add drops to treats.
50ml dropper bottle.

Delivery is FREE in the UK for all orders over £30. Otherwise, delivery is £2.95. 
EUROPE delivery charge from €17.90.
AMERICAS & REST OF THE WORLD delivery charge from $19.90. 
Once your product has shipped, it usually takes 2 to 3 business days in the UK, 5 to 10 in Europe, 7 to 20 for the rest of the world. 
You can return your product up to 30 days after receiving your order or Learn more...
Smiles
Guaranteed
We promise you will love it.
If you don't,
We will refund it.
We want you to be happy with your purchase. In the unlikely event you would not be satisfied by our products, just return the product to us and we will refund it.
No questions asked.