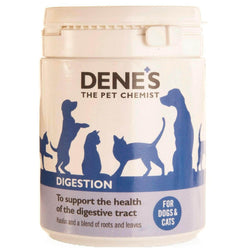 Denes
Denes Digestion 100g
Denes Digestion 100g.

Denes Digestion is a traditional herbal food supplement formulated to help support the digestive system, soothing the lining of the bowel and firming stools. Now also includes Liquorice Root and Slippery Elm. 

Formerly known as Digestion+ Powder.

Directions for use:
Add to food - spoon provided. 

Cats and small dogs 1 level scoop 3 times daily
Medium Dogs 2 level scoops 3 times daily
Large Dogs 3 level scoops 3 times daily
Very Large Dogs 4 level scoops 3 times daily

Ingredients:
Each 100g pot contains – Kaolin 28g, Marshmallow Root 18g, Agrimony 15g, Peppermint Leaf 15g, liquorice Root 14g, Ginger Root 5g and Slippery Elm 5g.

Delivery is FREE in the UK for all orders over £30. Otherwise, delivery is £2.95. 
EUROPE delivery charge from €17.90.
AMERICAS & REST OF THE WORLD delivery charge from $19.90. 
Once your product has shipped, it usually takes 2 to 3 business days in the UK, 5 to 10 in Europe, 7 to 20 for the rest of the world. 
You can return your product up to 30 days after receiving your order or Learn more...
Smiles
Guaranteed
We promise you will love it.
If you don't,
We will refund it.
We want you to be happy with your purchase. In the unlikely event you would not be satisfied by our products, just return the product to us and we will refund it.
No questions asked.