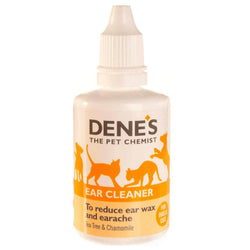 Denes
Denes Ear Cleaner 50ml
Denes Ear Cleaner 50ml.

Denes Ear Cleaner for Cats and Dogs is a general ear cleaning lotion made from a natural recipe. 

Designed to be used regularly, Denes Ear Cleaner can help to soothe sore ears, and remove excessive build up of wax and debris from your pet. 

Denes Ear Cleaner contains essential oils: Tea Tree and Chamomile.

Directions for use:
Cats 3 drops daily
Dogs 3 – 20 drops daily depending on size
Squeeze recommended number of drops into ear and massage thoroughly, but carefully. Wipe away any excess lotion.

Delivery is FREE in the UK for all orders over £30. Otherwise, delivery is £2.95. 
EUROPE delivery charge from €17.90.
AMERICAS & REST OF THE WORLD delivery charge from $19.90. 
Once your product has shipped, it usually takes 2 to 3 business days in the UK, 5 to 10 in Europe, 7 to 20 for the rest of the world. 
You can return your product up to 30 days after receiving your order or Learn more...
Smiles
Guaranteed
We promise you will love it.
If you don't,
We will refund it.
We want you to be happy with your purchase. In the unlikely event you would not be satisfied by our products, just return the product to us and we will refund it.
No questions asked.