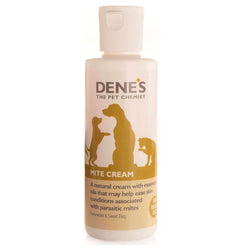 Denes
Denes Mite Cream 100ml
Denes Mite Cream 100ml.

Denes Mite Cream has been made with natural ingredients to help ease discomfort and irritation associated with skin conditions. 

Made with essential oils that have antiseptic, antifungal and insecticidal properties, Denes Mite Cream helps to dry moist areas and reduce the oil level where the skin is greasy. 

A natural cream, which can help ease skin conditions. 

Directions for use:
Apply twice daily to the affected area by gentle massage. If the condition persists, seek veterinary advice.

Ingredients::
Essential oils Cedarwood and Sweet Flag.

Delivery is FREE in the UK for all orders over £30. Otherwise, delivery is £2.95. 
EUROPE delivery charge from €17.90.
AMERICAS & REST OF THE WORLD delivery charge from $19.90. 
Once your product has shipped, it usually takes 2 to 3 business days in the UK, 5 to 10 in Europe, 7 to 20 for the rest of the world. 
You can return your product up to 30 days after receiving your order or Learn more...
Smiles
Guaranteed
We promise you will love it.
If you don't,
We will refund it.
We want you to be happy with your purchase. In the unlikely event you would not be satisfied by our products, just return the product to us and we will refund it.
No questions asked.