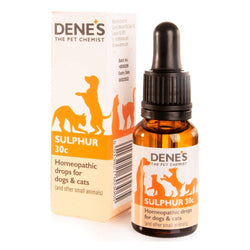 Denes
Denes Sulphur 30c 15ml
Denes Sulphur 30c 15ml.

Denes Sulphur 30c is best known homeopathically in the context of skin conditions.

Denes Sulphur 30c can help with flea allergies and with many other skin conditions, especially where there is an allergy. Sulphur is also generally used to help with itching, scratching, nibbling and rubbing, as well as dandruff, scabs, sores and smelly greasy skin. 

Directions for use:
By mouth or on food:

Severe conditions: (acute or intense) 5 drops every 3 – 4 hours
Ongoing conditions: (long duration, persisting) 5 drops twice daily

Ingredients:
Sulphur 30c Potency Homeopathic Medicine.
Delivery is FREE in the UK for all orders over £30. Otherwise, delivery is £2.95. 
EUROPE delivery charge from €17.90.
AMERICAS & REST OF THE WORLD delivery charge from $19.90. 
Once your product has shipped, it usually takes 2 to 3 business days in the UK, 5 to 10 in Europe, 7 to 20 for the rest of the world. 
You can return your product up to 30 days after receiving your order or Learn more...
Smiles
Guaranteed
We promise you will love it.
If you don't,
We will refund it.
We want you to be happy with your purchase. In the unlikely event you would not be satisfied by our products, just return the product to us and we will refund it.
No questions asked.