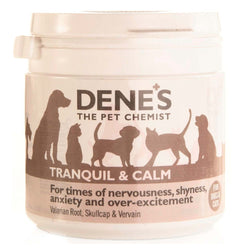 Denes
Denes Tranquil & Calm 50g
Denes Tranquil & Calm 50g.

Denes Tranquil & Calm is a traditional herbal food supplement for times of nervousness, shyness, over-excitement, hysteria and anxiety. 

Formerly known as Denes Tranquil+ Powder. 

Directions for use:
Add to food - spoon provided. 

Cats and toy dogs 0.5 level scoop twice daily
Small dogs 1 level scoop twice daily
Medium dogs 2 level scoops twice daily
Large dogs 3 level scoops twice daily
Very large dogs 4 level scoops twice daily

Ingredients:
Each 50g pot contains – Valerian Root 25g, Skullcap 15g, Vervain 10g.
Delivery is FREE in the UK for all orders over £30. Otherwise, delivery is £2.95. 
EUROPE delivery charge from €17.90.
AMERICAS & REST OF THE WORLD delivery charge from $19.90. 
Once your product has shipped, it usually takes 2 to 3 business days in the UK, 5 to 10 in Europe, 7 to 20 for the rest of the world. 
You can return your product up to 30 days after receiving your order or Learn more...
Smiles
Guaranteed
We promise you will love it.
If you don't,
We will refund it.
We want you to be happy with your purchase. In the unlikely event you would not be satisfied by our products, just return the product to us and we will refund it.
No questions asked.