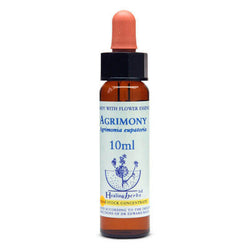 Healing Herbs
Healing Herbs Agrimony Bach Flower Remedy 10ml
Healing Herbs Agrimony Bach Flower Remedy 10ml. 
The jovial, cheerful, humorous people who love peace and are distressed by argument or quarrel. Though generally they have troubles and are tormented and restless and worried in mind or in body, they hide their cares behind their humour and jesting and are considered very good friends to know. They often take alcohol or drugs in excess, to stimulate themselves and help themselves bear their trials with cheerfulness.
worry hidden by a carefree mask, apparently jovial but suffering
steadfast peace
Dr Edward Bach The Twelve Healers 1936 Edition
Bach Flower Essences
Authentic Essences made according to the original method and dilution of Dr Edward Bach – preserved in French Organic Cognac with flowers harvested from their wild and natural habitat.
Delivery is FREE in the UK for all orders over £30. Otherwise, delivery is £2.95. 
EUROPE delivery charge from €17.90.
AMERICAS & REST OF THE WORLD delivery charge from $19.90. 
Once your product has shipped, it usually takes 2 to 3 business days in the UK, 5 to 10 in Europe, 7 to 20 for the rest of the world. 
You can return your product up to 30 days after receiving your order or Learn more...
Smiles
Guaranteed
We promise you will love it.
If you don't,
We will refund it.
We want you to be happy with your purchase. In the unlikely event you would not be satisfied by our products, just return the product to us and we will refund it.
No questions asked.