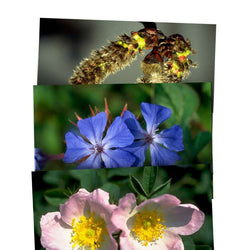 Healing Herbs
Healing Herbs Postcards Set of 40
Healing Herbs Postcards set of 40. 
A complete 40-card set of the Bach flowers. 

Useful in the field to help identify plants and as memory cards for remedy and plant study. 

They are also used by practitioners in situations where language skills are limited, say when dealing with children. They have also been used extensively in countries where the plants do not naturally grow and cannot be found nor experienced.
Delivery is FREE in the UK for all orders over £30. Otherwise, delivery is £2.95. 
EUROPE delivery charge from €17.90.
AMERICAS & REST OF THE WORLD delivery charge from $19.90. 
Once your product has shipped, it usually takes 2 to 3 business days in the UK, 5 to 10 in Europe, 7 to 20 for the rest of the world. 
You can return your product up to 30 days after receiving your order or Learn more...
Smiles
Guaranteed
We promise you will love it.
If you don't,
We will refund it.
We want you to be happy with your purchase. In the unlikely event you would not be satisfied by our products, just return the product to us and we will refund it.
No questions asked.