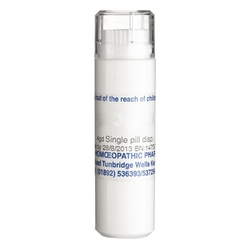 Helios China 30c 100 Sucrose Pills
Helios China 30c is made from the bark of Cinchona officinalis using the method of dilution and succussion. 

Contents: 100 sucrose pills (approx) in a dispenser which delivers one pill at a time. 
Suitable for all ages. 

Dose: One pillule to be sucked only when required. Stop with improvement.

Pillules may be dissolved in boiled cooled water or crushed before being taken.

Do not take within 15 minutes of eating or drinking.

Weight: 4g (100 pillules approx.)
Delivery is FREE in the UK for all orders over £30. Otherwise, delivery is £2.95. 
EUROPE delivery charge from €17.90.
AMERICAS & REST OF THE WORLD delivery charge from $19.90. 
Once your product has shipped, it usually takes 2 to 3 business days in the UK, 5 to 10 in Europe, 7 to 20 for the rest of the world. 
You can return your product up to 30 days after receiving your order or Learn more...
Smiles
Guaranteed
We promise you will love it.
If you don't,
We will refund it.
We want you to be happy with your purchase. In the unlikely event you would not be satisfied by our products, just return the product to us and we will refund it.
No questions asked.