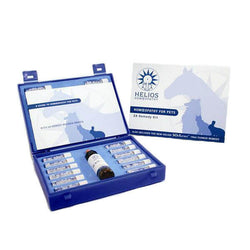 Helios Homeopathy Kit for Pets 24 Remedies
Helios Homeopathy Kit for Pets contains 24 homeopathic remedies (in 2g bottles of size 6  pills/pillules), and for those emergency situations includes SOeSsence Flower Formula in liquid form. 
There is a free booklet available with every kit purchased, introducing you to homeopathy for your pets, featuring an A-Z of complaints and a materia medica section describing the traditional uses of the remedies. 
The Pet Kit Contains: Aconite, Arnica, Apis, Aconite/Arsenicum/Argent-nit., Arsenicum Belladonna, Bryonia, Cantharis, Cocculus, Drosera, Euphrasia, Gelsemium, Hypericum/Calendula, Hepar Sulp, Ignatia, Ipecacuanha, Merc-corr, Ledum, Nux Vomica, Pulsatilla, Rhus/Ruta, Silica, Sulphur, Symphytum. 10ml Helios SOeSsence Flower Formula.
All remedies are in 30c potency
Kit size 140 x 105 x 40mm

Delivery is FREE in the UK for all orders over £30. Otherwise, delivery is £2.95. 
EUROPE delivery charge from €17.90.
AMERICAS & REST OF THE WORLD delivery charge from $19.90. 
Once your product has shipped, it usually takes 2 to 3 business days in the UK, 5 to 10 in Europe, 7 to 20 for the rest of the world. 
You can return your product up to 30 days after receiving your order or Learn more...
Smiles
Guaranteed
We promise you will love it.
If you don't,
We will refund it.
We want you to be happy with your purchase. In the unlikely event you would not be satisfied by our products, just return the product to us and we will refund it.
No questions asked.