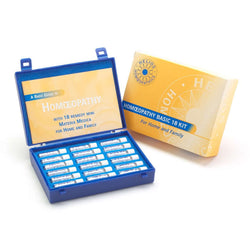 Helios Homoeopathy Basic 18 Kit
Helios Homoeopathy Basic 18 Kit contains 18 remedies to cover the most common ailments and minor injuries for all the family. Compact and lightweight, these kits are suitable to take with you when going on family outings, weekend breaks, holidays etc. 
The 18 remedies are contained in 2 gram glass bottles, each holding approximately 35 doses
in lactose free, sucrose pill form.
They are packaged in a sturdy polypropylene storage case. Each kit comes with a comprehensive self-prescribing guide to help you select the most appropriate remedy. 
The 18 remedy kit contains: Aconite 30c, Apis 30c, Arnica 30c, Arsenicum alb 30c, Belladonna 30c, Bryonia 30c, Cantharis 30c, Chamomilla 30c, Gelsemium 30c, Hypericum 30c, Ignatia 30c, Ledum 30c, Mercurius 30c, Nux vom 30c, Pulsatilla 30c, Rhus tox 30c, Ruta 30c, Silica 30c.
Kit size 140 x 105 x 40mm
Delivery is FREE in the UK for all orders over £30. Otherwise, delivery is £2.95. 
EUROPE delivery charge from €17.90.
AMERICAS & REST OF THE WORLD delivery charge from $19.90. 
Once your product has shipped, it usually takes 2 to 3 business days in the UK, 5 to 10 in Europe, 7 to 20 for the rest of the world. 
You can return your product up to 30 days after receiving your order or Learn more...
Smiles
Guaranteed
We promise you will love it.
If you don't,
We will refund it.
We want you to be happy with your purchase. In the unlikely event you would not be satisfied by our products, just return the product to us and we will refund it.
No questions asked.