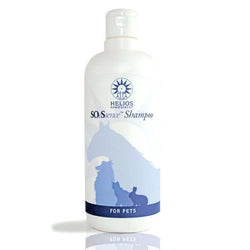 Helios SOeSsence Pet Shampoo 500ml
Helios SOeSsence Pet Shampoo blends essential oils of Lavender and Roman Chamomile, organic plant tinctures of Calendula and Urtica Urens, Sulphur and flower essence of Crab Apple to gently clean your pet. In a mild, SLS free shampoo base. 
Helios SOeSsence Pet Shampoo is suitable for all coat and skin types and is especially recommended for pets with dry, scurfy or itchy skin and will leave you pet smelling great too. 

For small or young animals dilute with equal parts of water. 
Not suitable for puppies or kittens under 12 weeks old.
Delivery is FREE in the UK for all orders over £30. Otherwise, delivery is £2.95. 
EUROPE delivery charge from €17.90.
AMERICAS & REST OF THE WORLD delivery charge from $19.90. 
Once your product has shipped, it usually takes 2 to 3 business days in the UK, 5 to 10 in Europe, 7 to 20 for the rest of the world. 
You can return your product up to 30 days after receiving your order or Learn more...
Smiles
Guaranteed
We promise you will love it.
If you don't,
We will refund it.
We want you to be happy with your purchase. In the unlikely event you would not be satisfied by our products, just return the product to us and we will refund it.
No questions asked.