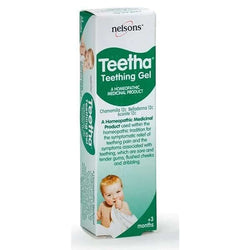 Nelsons
Nelsons Teetha Teething Gel 15g
Nelsons Teetha Teething Gel 15g.
Nelsons Teetha Teething Gel is a homeopathic medicinal product used within the homeopathic tradition for the symptomatic relief of teething pain and the symptoms associated with teething which are sore and tender gums, flushed cheeks and dribbling. 
For babies from 3 months old
Sugar free
Easy to apply
Gentle formulation
How to use:
With a clean finger apply a pea sized amount of the gel to the sore area on the baby's gums and teeth. 

Ingredients:
Each 1g oral gel contains Chamomilla 12c, Belladonna 12c, Aconite 12c Also contains water, Ethanol, Xylitol (E967), Hypromellose, Glycerol, Xanthan gum. 
The active ingredients in this product are traditionally used in homeopathy for the following:
Chamomilla to help relieve teething pain. 
Belladonna to help relieve flushed cheeks and dribbling. 
Aconite to help with sore and tender gums. 
Delivery is FREE in the UK for all orders over £30. Otherwise, delivery is £2.95. 
EUROPE delivery charge from €17.90.
AMERICAS & REST OF THE WORLD delivery charge from $19.90. 
Once your product has shipped, it usually takes 2 to 3 business days in the UK, 5 to 10 in Europe, 7 to 20 for the rest of the world. 
You can return your product up to 30 days after receiving your order or Learn more...
Smiles
Guaranteed
We promise you will love it.
If you don't,
We will refund it.
We want you to be happy with your purchase. In the unlikely event you would not be satisfied by our products, just return the product to us and we will refund it.
No questions asked.