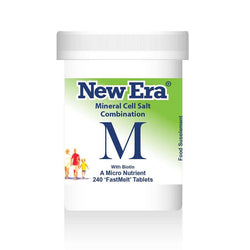 New Era Mineral Cell Salts
New Era Combination M 240 Tablets
New Era Combination M 240 Tablets.

Combination Mineral Tissue Salts.

New Era Combination M contains Sodium Phosphate (Nat Phos), Sodium Sulphate (Nat Sulph), Potassium Chloride (Kali Mur), Calcium Phosphate (Calc Phos).

12 tablets provide + 14.25ug of Biotin (28.5% Reference Intake). 

New Era Combination M is formulated strictly in accordance with Dr. Schuesslers principles and system.

Fast Melt Tablets - Each bottle contains 240 small "melt under the tongue" tablets, for which New Era is famous. Their cell salt nutrients are therefore more rapidly absorbed into the blood stream than any ordinary tablet can be expected to achieve when chewed, swallowed or taken with a drink. 

Biotin - New Era's original Tissue Salts now also have a little extra Biotin added, an essential nutrient which contributes to the normal energy yielding metabolism, functioning of the nervous system, normal macronutrient metabolism and psychological function. It also contributes to the maintenance of normal hair, skin and to the maintenance of normal mucous membranes. These Health Claims are approved as per the EU Register on Nutrition and Health Claims. 

Directions - Dissolve 4 to 8 tablets on or under the tongue 3 times per day. Children under 12 years of age should use half dosage. It is quite safe to take these New Era Tissue Salt tablets alongside other medicines or supplements. Do not exceed the recommended dose. 

Full ingredients - Lactose (milk), gum arabic, biotin, sodium phosphate, sodium sulphate, potassium chloride, calcium phosphate.
Delivery is FREE in the UK for all orders over £30. Otherwise, delivery is £2.95. 
EUROPE delivery charge from €17.90.
AMERICAS & REST OF THE WORLD delivery charge from $19.90. 
Once your product has shipped, it usually takes 2 to 3 business days in the UK, 5 to 10 in Europe, 7 to 20 for the rest of the world. 
You can return your product up to 30 days after receiving your order or Learn more...
Smiles
Guaranteed
We promise you will love it.
If you don't,
We will refund it.
We want you to be happy with your purchase. In the unlikely event you would not be satisfied by our products, just return the product to us and we will refund it.
No questions asked.