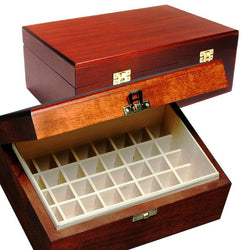 Healing Herbs
Practitioner Box for 10ml by Healing Herbs
Practitioner Box for 10ml by Healing Herbs. 
Empty wooden box 

Specifically designed for the 10 ml / 40 bottle set of Bach flower remedies. These well-crafted wooden boxes are made for the bach flower remedies 10ml sized remedy bottles which are sold separately.
Delivery is FREE in the UK for all orders over £30. Otherwise, delivery is £2.95. 
EUROPE delivery charge from €17.90.
AMERICAS & REST OF THE WORLD delivery charge from $19.90. 
Once your product has shipped, it usually takes 2 to 3 business days in the UK, 5 to 10 in Europe, 7 to 20 for the rest of the world. 
You can return your product up to 30 days after receiving your order or Learn more...
Smiles
Guaranteed
We promise you will love it.
If you don't,
We will refund it.
We want you to be happy with your purchase. In the unlikely event you would not be satisfied by our products, just return the product to us and we will refund it.
No questions asked.