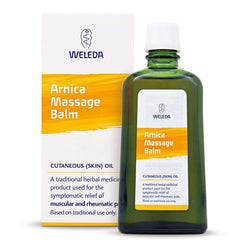 Weleda
Weleda Arnica Massage Balm 100ml
Weleda Arnica Massage Balm is the ideal natural remedy for relief of rheumatic and muscular pain and stiffness as well as backache, fibrositis, sprains, cramps and bruising. This effective oil can be massaged into the affected area bringing warmth and relief of pain and to help prevent stiffening. 
Weleda Massage Balm with Arnica is a wonderfully aromatic dark gold liquid containing therapeutic plant extracts and oils to comfort old aches and pains that flair up when put to the test. 

How to use:
Read the enclosed leaflet before use. 
For application to the skin only. Wash hands before and after use. 
Adults, the elderly and children over 12 years: Apply sparingly to the affected area with gentle massage three to four times daily. 

Ingredients:
Active ingredients: 1g of balm contains 0.70g of liquid extract from: dried flowers of Arnica (equivalent to 0.032g Arnica montana L): dried leaves of Birch (equivalent to 0.032g Betula pendula Roth and/or Betula pubescens Ehrh as well as hybrids of both species). 
Also contains: Rosemary oil, Lavender Oil, Lavandin Oil and Ethanol.
Extraction solvent: Ethanol 96% v/v/Sunflower Oil (2.3/97.7).
Suitable for adults, the elderly and children over 12 years of age. 

Suitable for Vegans.
Delivery is FREE in the UK for all orders over £30. Otherwise, delivery is £2.95. 
EUROPE delivery charge from €17.90.
AMERICAS & REST OF THE WORLD delivery charge from $19.90. 
Once your product has shipped, it usually takes 2 to 3 business days in the UK, 5 to 10 in Europe, 7 to 20 for the rest of the world. 
You can return your product up to 30 days after receiving your order or Learn more...
Smiles
Guaranteed
We promise you will love it.
If you don't,
We will refund it.
We want you to be happy with your purchase. In the unlikely event you would not be satisfied by our products, just return the product to us and we will refund it.
No questions asked.