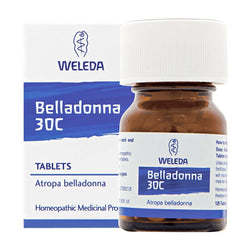 Weleda
Weleda Belladonna 30C 125 Tablets
Atropa belladonna 30C homeopathic remedy.

Weleda Belladonna 30C can be used for Hot, flushed face; shiny eyes; sore throat; neuralgia; throbbing earache; throbbing boils; throbbing headache. Sunburn. Dry tickly cough, coughing fits, Earache. 
Homeopathic Medicinal Product.

Directions:
Adults: 2 tablets, Children: 1 tablet. Tablets to be sucked or chewed. Unless otherwise directed: take 1 dose every 2 hours for the first 6 doses. Thereafter take 1 dose when required.

Ingredients:
Contains Atropa belladonna 30C homeopathic potency on 100mg lactose/sucrose tablets.

Suitable for Vegetarians.
Delivery is FREE in the UK for all orders over £30. Otherwise, delivery is £2.95. 
EUROPE delivery charge from €17.90.
AMERICAS & REST OF THE WORLD delivery charge from $19.90. 
Once your product has shipped, it usually takes 2 to 3 business days in the UK, 5 to 10 in Europe, 7 to 20 for the rest of the world. 
You can return your product up to 30 days after receiving your order or Learn more...
Smiles
Guaranteed
We promise you will love it.
If you don't,
We will refund it.
We want you to be happy with your purchase. In the unlikely event you would not be satisfied by our products, just return the product to us and we will refund it.
No questions asked.