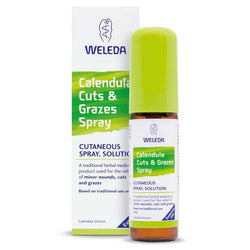 Weleda
Weleda Calendula Cuts & Grazes Spray 20ml
Weleda Calendula Cuts & Grazes Skin Spray is a traditional herbal medicinal product used for the relief of minor wounds, cuts and grazes. Based on traditional use only. Can be used to clean wounds.
For cuts, wounds and grazes.
Cleansing spray with the naturally antiseptic properties of organic calendula extract.
How to use:
Read the enclosed leaflet before use.
For cutaneous use only.
Adults, the elderly and children over 6 years:
For application to the skin. Wash hands before and after use.
Clean the affected area if required.
Spray one or two metered sprays on the affected area as required, up to three
times a day and allow to dry. May also be sprayed onto a clean dressing and
applied to the cut or graze.
Ingredients:
Active ingredients: 1g of spray contains 0.2g of tincture from Calendula officinalis herb (equivalent to 0.10g Calendula officinalis L.Herb)
Extraction solvent: Ethanol 90% v/v
Also contains Ethanol and Purified water.
Suitable for vegans.
Delivery is FREE in the UK for all orders over £30. Otherwise, delivery is £2.95. 
EUROPE delivery charge from €17.90.
AMERICAS & REST OF THE WORLD delivery charge from $19.90. 
Once your product has shipped, it usually takes 2 to 3 business days in the UK, 5 to 10 in Europe, 7 to 20 for the rest of the world. 
You can return your product up to 30 days after receiving your order or Learn more...
Smiles
Guaranteed
We promise you will love it.
If you don't,
We will refund it.
We want you to be happy with your purchase. In the unlikely event you would not be satisfied by our products, just return the product to us and we will refund it.
No questions asked.