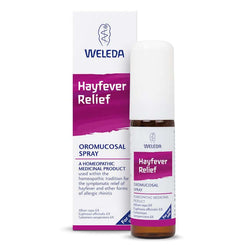 Weleda
Weleda Hayfever Relief Oral Spray 20ml
Weleda Hayfever Relief Oral Spray is a homeopathic product used within the homeopathic tradition for the symptomatic relief of hayfever and other forms of allergic rhinitis. 

100% natural homeopathic mouth spray for symptom relief from hayfever and allergic rhinitis. 

How to use:
For oral use only. 
Adults, the elderly and children over 18 years of age:
Hold the spray upright, a few centimeters from the mouth.
Open the mouth and apply one or two metered sprays into the mouth up to 3 times daily. Change the site of application each time to minimise any potential irritation. 

Do not swallow.
Ideally, doses should be taken half an hour before or half an hour after food or drink.

Ingredients:
Each metered spray contains the following ingredients: Allium cepa 6X, Euphrasia officinalis 6X and Gelsemium semppervirens 6X.
Other ingredients: Ethanol 16.1% w/w, purified water. 

Suitable for vegans.
Delivery is FREE in the UK for all orders over £30. Otherwise, delivery is £2.95. 
EUROPE delivery charge from €17.90.
AMERICAS & REST OF THE WORLD delivery charge from $19.90. 
Once your product has shipped, it usually takes 2 to 3 business days in the UK, 5 to 10 in Europe, 7 to 20 for the rest of the world. 
You can return your product up to 30 days after receiving your order or Learn more...
Smiles
Guaranteed
We promise you will love it.
If you don't,
We will refund it.
We want you to be happy with your purchase. In the unlikely event you would not be satisfied by our products, just return the product to us and we will refund it.
No questions asked.