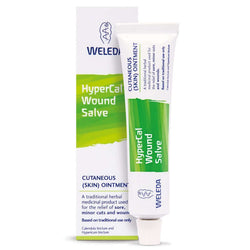 Weleda
Weleda HyperCal Wound Salve 25g
Weleda HyperCal Wound Salve is a traditional herbal medicinal product used for the relief of sore, minor cuts and wounds. 
Traditionally used to treat painful cuts and minor wounds. 
Extract of hypericum, the ancient remedy St John's Wort. 
How to use:
For application to the skin only. Wash hands before and after use.
Adults, the elderly and children over 12 years: Clean the affected area and apply directly or on a dry dressing two or three times daily. 
Do not use for more than 1 week. 
Ingredients:
1g of ointment contains: 0.10 ml of tincture from
Calendula officinalis L., herba (Calendula herb) (equivalent to 50 mg of
Calendula herb) and 0.15 ml of tincture from Hypericum perforatum L.,
herba (St John's Wort herb) (equivalent to 50 mg of St John's Wort herb).
Extraction solvent for both tinctures: Ethanol 86 % w/w.
Other ingredients are Wool Fat (Lanolin), Sunflower Oil, Olive Oil, Yellow
Beeswax, Ethanol and Purified Water. 
Suitable for Vegetarians.
Delivery is FREE in the UK for all orders over £30. Otherwise, delivery is £2.95. 
EUROPE delivery charge from €17.90.
AMERICAS & REST OF THE WORLD delivery charge from $19.90. 
Once your product has shipped, it usually takes 2 to 3 business days in the UK, 5 to 10 in Europe, 7 to 20 for the rest of the world. 
You can return your product up to 30 days after receiving your order or Learn more...
Smiles
Guaranteed
We promise you will love it.
If you don't,
We will refund it.
We want you to be happy with your purchase. In the unlikely event you would not be satisfied by our products, just return the product to us and we will refund it.
No questions asked.